My camera has officially died. It's been on its last leg for about a year, so I knew this day was coming, but it was still quite sad. I'm now without a camera. I've tried to use my Kindle Fire a few times, but the forward-facing camera is a pain. The picture quality isn't the best either. Luckily, my lovely, super-wonderful, absolutely awesome hubby said I can have a new one for my birthday. The best part? He's going to finally let me get a digital SLR. Yay!!!!! I've wanted one for about five years now, but they were always a little – a lot – out of our price range. Mr. Wonderful also said I wasn't responsible enough. That's right, he said I would lose the lenses. Phhttt – Okay, he's probably right. Back to the point, I can have one now!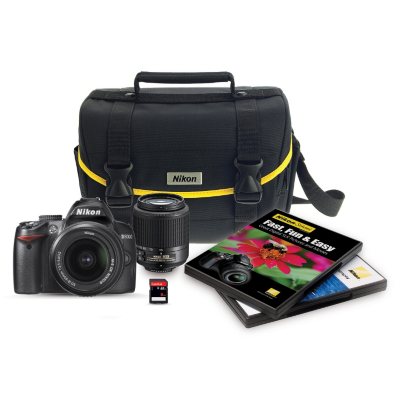 So we've been camera shopping, and frankly, it's been depressing. I knew they were expensive, but…wow. So finally we checked Sam's Club, and I found this cute little critter. Bingo! It comes with the camera, two lenses, a bag, two dvds, and a memory card – all for under five hundred! I looked it up on the Nikon website, and it seems to get good reviews, and the two lenses each have an estimated retail price of 199.99. And the best part? It's for newbies to the digital SLR world. That's me! Now I just have to wait twenty nine days until my birthday. Hmmm. Oh well, waiting's good and all that.
Anyone familiar with this camera? Or have any camera shopping expertise? Send it my way!